FUNDRAISING SALE OF DAVID MILLIS ARTWORKS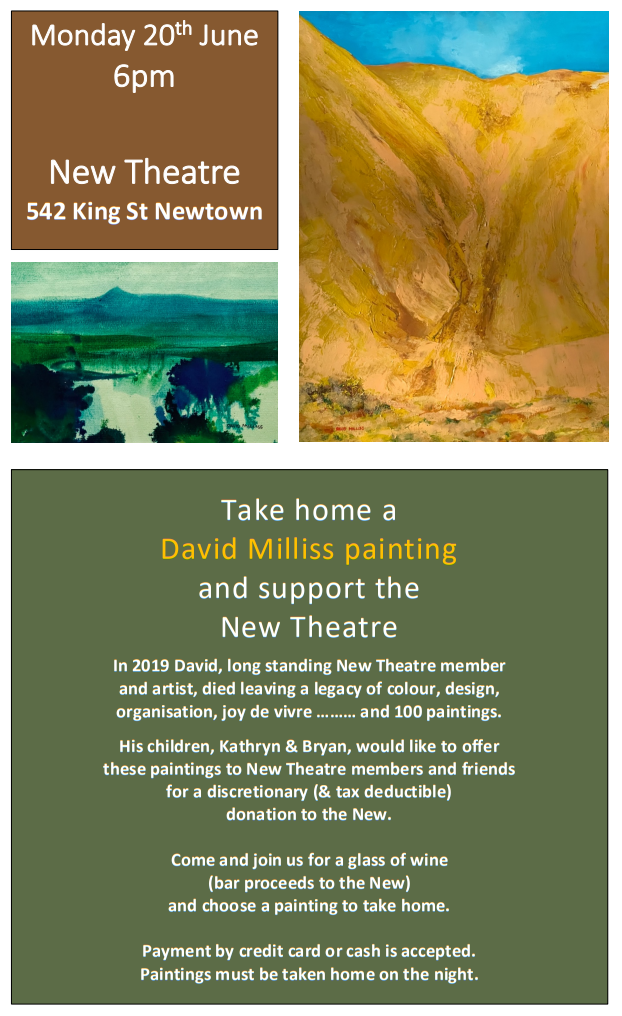 VALETE 'FARNDALE' AND 'STAINLESS'
The New recently lost two of our oldest mates. John Farndale (usually known simply as "Farndale") died at Stanmore in April, Rob "Stainless" Steele at Bomaderry on 14 May. Both men first became involved with our theatre in the 1970s.
Billed as Robbie Steele, Stainless debuted in The Disorderly Women at the New's then home in St Peters Lane, Darlinghurst, in 1971. The next year he acted in Brian Syron's production of The Seagull, was well reviewed as a cynical drifter in An IsolatedCase of Heterochromia and outstanding as rascally judge Azdak in The Caucasian Chalk Circle. Rob was a core member of the Workshop program, a training ground for directors, actors and crew. He performed in Reedy River several times and directed a production of the folk musical in 1988. As part of events marking the New's 75th birthday he acted in Alex Buzo's two-hander Norm and Ahmed.
Rob also directed for Darlinghurst's Crossroads Theatre. Among the professional stage companies for whom he acted were the Nimrod, Riverina and Melbourne Theatre Companies. He appeared in a number of major feature films including Breaker Morant, The Chant of Jimmie Blacksmith and Muriel's Wedding and in television series such as Homicide, Matlock Police, Division 4 and Fireflies. After playing New Theatre member Lyn Collingwood's errant husband on Home and Away, the pair teamed up again in One Last Gift, a short film written by one of Rob's Television Production students.
In 1984 Stainless moved from Enmore after buying the Golden Fleece at Binalong, a town near Yass. He made the old inn his home and directed shows for the Binalong Players. Several productions were remounted in Canberra.
A young John Farndale was first seen on the New Theatre stage in 1976 in John Tasker's "meticulous production" of The Changing Room, a Rugby League play which contained plenty of unselfconscious male nudity. His next production with us was in 1997 when he acted in Translations and doubled as Polonius and a gravedigger in Hamlet, the title role played by Damien Ryan. Later appearances were in Mother Courage and Her Children, Gross Indecency: the Three Trials of Oscar Wilde in repertory with TheImportance of Being Earnest, and The Castle. In 2004 he was a definitive Scrooge in a New Theatre fundraiser production of A Christmas Carol at the Dickson Space in Newtown. His last performance was in 2016 in The Ritz where he escaped to the dressing room after lying down as a dead man in the first scene.
Farndale's roles with the Griffin Theatre Company at the Stables Theatre in the 1980s included a double-crossing strip-joint owner in Pussies, and Garrett in Ned Manning's Us Or Them with New Theatre actors Peter Callan and Mark Butler. Farndale also performed at the Bondi Pavilion Theatre. In Occupations, a Macquarie Actors' Collective at Nimrod Downstairs, he was praised for acting with a blend of emotive restraint and total immersion of feeling.
In recent years Farndale helped designer Tom Bannerman build sets. A celebration of his life, organised by Sue Rado in collaboration with Tom, was held at Newtown's Union Hotel on 24 April.