BASED ON THE SCREENPLAY BY DAVID MAMET,
STORY BY DAVID MAMET & JONATHAN KATZ,
STAGE VERSION BY RICHARD BEAN
9 AUGUST – 10 SEPTEMBER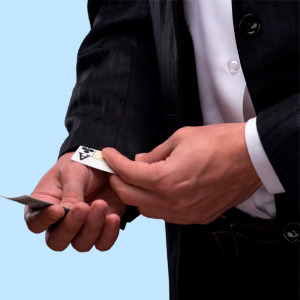 "This is a confidence game, not because you give me your confidence, but because I give you mine."
Psychoanalyst Margaret Ford, the author of a best-seller on compulsive behaviour, compromises her professional reputation when she offers to help one of her patients settle his gambling debts.
Drawn into the seedy world of Chicago poker clubs and seduced by a charismatic hustler, Margaret starts out on what she thinks is an academic study but finds herself caught up in complex and dangerous con.
Playwright Richard Bean (One Man, Two Guvnors, Harvest) has taken the cult film written and directed by David Mamet, which won the Best Film and Best Screenplay awards at the 1987 Venice Film Festival, and created a taut, funny and sexy noir-thriller about obsession and the lengths we go to get what we desire.
House of Games is in the best tradition of the 'con' caper – think The Sting, Ocean's Eleven, Hustle – and New Theatre is excited to be presenting this Australian premiere.
"A deliciously theatrical reinvention" Variety
CREATIVE TEAM
Director Louise Fischer
Set Designer John Cervenka
Lighting Designer Louise Mason
Costume Designer Deborah Mulhall
Sound Designer Amber Wilcox
Assistant Director Sahn Millington
Cards/Poker Advisor Wayne Van Keren
Stage Manager Douglas Cairns
Assistant Stage Manager Cindy Wang
CAST
Ben Brock, Hannah Day, Cheyne Fynn, Charles Jones,
Mark Langham, Rebecca Levy, Colin McCarlie,
Katherine Shearer, Benjamin Vickers, Cindy Wang
TIMES
Previews Tue 9 & Wed 10 Aug, 7:30pm
Thu – Sat 7:30pm, Sun 5pm
Final performance, Sat 10 Sep 5pm
TICKETS
Full $32 | Concession $27
Groups (10+) $27 | Members $22
Previews, Student Rush, Thrifty Thursdays $17
"Fast, raw dialogue, bitingly authentic characters, clever humour and pace … A tight knit ensemble production that is provocative and entertaining" Stage Whispers
"The risky gambles, backstabbing and clever ploys drew me in … Packs in psychological games, romance, and theatrical violence for an entertaining evening" Upstaged Reviews
"The writing was sharp and the jokes flew … A lot of fun, ‪a good night out" The Music
"A great cast, a beautiful set design and some genuinely funny moments" The Buzz From Sydney
"Slick direction engages us from the start and develops a slow burn that builds to the play's climax" Theatre Now
"A spicy and insightful production … A fun time exploring the underside of human character … Impressive was how strong the ensemble performed as a group of larrikin no-goods" Broadway World