New Theatre, in association with the Sydney Gay & Lesbian Mardi Gras, presents
BY TERRENCE MCNALLY
16 FEBRUARY – 5 MARCH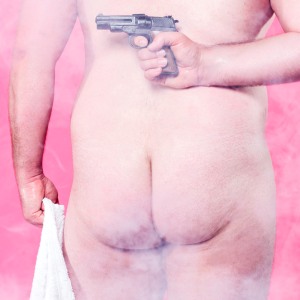 "Stay out of the steam room. It gets pretty wild in there!"
On the run from his homicidal mobster brother-in-law, hapless middle-aged businessman Gaetano Proclo takes refuge in a seedy, steamy Manhattan bathhouse called 'The Ritz' – mistaking it for a hotel.
Amidst the amyl-nitrate-scented clouds he encounters chubby chasers, go-go boys, bumbling detectives, gay orgies and a Bette Midler wannabe with dreams of Broadway fame.
Then his wife tracks him down and jumps to the wrong conclusions about his sexual orientation.
This madcap farce, written at the height of the gay sexual revolution before AIDS changed the world, offers a glimpse of a lifestyle both hedonistic and celebratory, when anything seemed possible.
The Ritz marked Terrence McNally's Broadway breakthrough and was subsequently adapted into a romp of a movie that quickly earned cult status.
If you loved the film, you'll adore the play! +PICS, +PRESS
"Buy, beg, borrow or steal a ticket to see one of the funniest, gayest comedies in ages." Same Same
CREATIVE TEAM
Director David Marshall Martin
Set Designer Tom Bannerman
Lighting Designer Louise Mason
Costume Designer Lucy Scott
Choreographer Edward Rooke
Stage Manager Rosane McNamara
Assistant Stage Manager Ricci Costa

CAST
Les Asmussen, Meagan Caratti, Samuel Christopher, Jarryd Clancy, Ricci Costa, John Edwards, John Farndale, Lisa Franey, Ivan Hui, William Koutsoukis, Adam Kovarik, Rosane McNamara, Marty O'Neill, David Ross, James Smithers, Barton Williams
TIMES
Previews Tue 16 & Wed 17 Feb, 7:30pm
Tue – Sat 7:30pm, Sun 5pm
Final performance: parade day, Sat 5 March 2pm
TICKETS
Full $32 | Concessions, Groups (10+) $27 | Mardi Gras Member $25 | New Theatre Member $22 | Previews, Student Rush, Thrifty Thursdays $17