9 – 14 January 2017
Presented by Em's Entertainment, in association with NEW THEATRE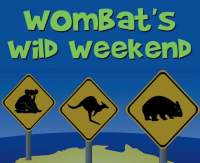 The perfect show for rug-rats, from babes-in-arms to 7yo, and fun for all the family!
Wombat from the 'Big Smoke' goes on an Aussie outback adventure, only to run into a sneaky Bower Bird who seems intent on ruining his weekend getaway by stealing all his socks!
Join Wombat and his new-found friends: Koala, Kookaburra, Dingo and Joey the Kangaroo as they band together to stop the pesky thief.
Fast-paced and full of catchy songs, Wombat's Wild Weekend has been a hit with kids Australia-wide. Now it's Newtown's turn to enjoy.
"The performance was just fantastic in every way! It excited the children and got their imaginations working. Every child must have this experience!" Rebecca – Santa Sabina OOSHC
CREATIVE TEAM
Writer Wayne Tunks
Director Emma Louise
CAST
Shondelle Pratt
TICKETS
$18
$65 Family Pass (4 people)
Under 2yo free
All children must be accompanied by an adult