BY HILARY BELL
19 AUGUST – 13 SEPTEMBER 2014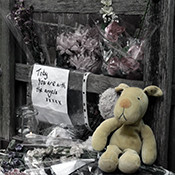 "The Wolf came back, Mum"
In a desolate Tasmanian country town, a small child is murdered and suspicion falls on nine-year-old Lizzie. Her mother Angela is faced with the heartbreaking choice between ignoring the suspicion that her daughter is guilty and handing her over to the police.
As the investigation progresses, Lizzie is not the only one who is changed forever by the events that unfold. The adults around her, bewildered and full of denial, find their accepted beliefs challenged as the world they think they know disintegrates, exposing a legacy of violence and deceit.
The debut play from the winner of the Patrick White Playwrights' Fellowship for 2013, taps into the tensions, conflicts and dynamics of tight-knit communities to explore the disturbing subject of children who kill the fine line between innocence and amorality, and to pose the question: is there such a thing as intrinsic evil?
"Bell is a playwright who refuses to be pigeon holed and constantly seeks new ways of telling stories for the stage" Andrew Upton, STC Artistic Director
CREATIVE TEAM & CREW
Director Emma Louise
Assistant Director/Production Manager Martin Kelly
Set Designer Allan Walpole
Lighting Designer Heidi Brosnan
Sound Designer Chelsea Reed
Costume Designer Jennifer Ham
Stage Manager Petra Vakulic
Assistant Stage Manager Julieta Locane
Movement Consultant Shondelle Pratt
CAST 
Maryellen George, Peter McAllum, Lucy Miller, David Woodland
TIMES 
Previews Tue 19 & Wed 20 Aug 7:30pm
Thu – Sat 7:30pm, Sun 5pm
Final performance, Sat 13 Sep 5pm
TICKETS
Full $32 | Concession $27 | Groups (10+) $27 | Members $22 | Previews $17 | Student Rush $17 | Thrifty Thursdays $17
★★★★ "The combination of excellent direction, production design, script and four top-notch actors creates a spectacle that we are compelled to watch … A stirring performance of an excellent play."  Arts Hub
"Dark, disturbing and challenging … full of mystery and dramatic tension … an enthralling and eye-opening night in the theatre" Suzy Goes See
"A thought provoking play brought to life by four wonderful actors … The production design makes a significant contribution to the story … Truly compelling" Same Same
"Excellent performances engross the audience … Maryellen George gives a perfectly fiesty turn as Lizzy … David Woodland and Lucy Miller bring the tormented parents to life, their anguished desperation is chilling and impressive … Peter McAllum is suitably intimidating as the police sergeant" The Buzz From Sydney 
"A solid, faithful interpretation from a highly competent ensemble invested in the text and its expression. It's worth a viewing" Shit On Your Play
"A dark story that is scary and spine-tingling thanks to a great cast putting in superb performances … This tense drama and mystery will stay and challenge you long after you've left the theatre." The AU Review
"Under the direction of Emma Louise, this tightly focus play, with its atmosphere heightened by the set design of Allan Walpole, music by Chelsea Reed and lighting by Heidi Brosnan,holds us in its grip until the very end." Sydney Arts Guide
"Enthralling writing, chilling perfomances and psychologically rattling themes. A meaty production with plenty to chew on. 4/5″ Sydney Theatre Review
"A disturbing play that's lost none of its bite" The Spell of Waking Hours
"The atmosphere is haunting from start to finish. Set your spine to tingle" Dinner and a Show
"Bell's tragic murder story is timeless and this production is challenging and energetic" Concrete Playground
Photos © Bob Seary
Main image © Richard Hedger