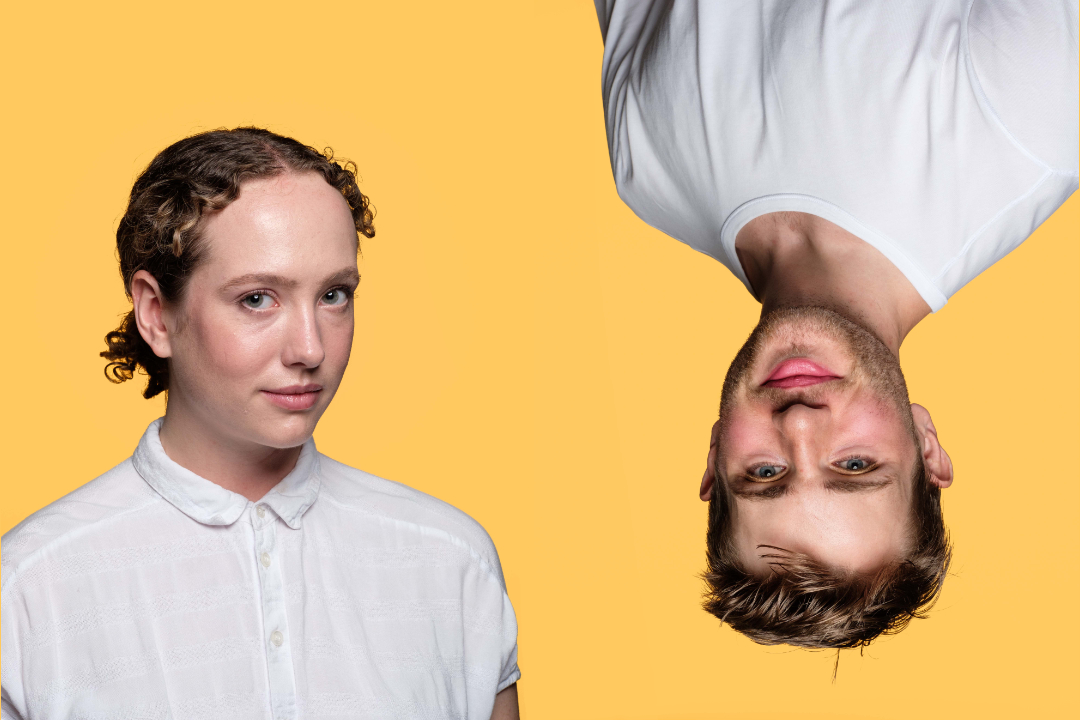 Twelfth Night
by William Shakespeare
6 – 23 January 2021
Produced by Virginia Plain, in association with New Theatre
"Tis but fortune. All is fortune."
Shipwrecked on the shores of a foreign land and believing her brother to be dead, Viola is determined to survive. She disguises herself as a boy and goes to work for the lovesick Orsino, setting into motion a whirlwind chain of events of mistaken identity, unrequited love and elaborate pranks. In Illyria music is the food of love, and anything is possible. 
An ensemble of twelve actors each learn two parts and toss a coin at the beginning of each performance to determine their characters for the evening.
Twelve actors, 64 possibilities. It's still Twelfth Night, with all its lovers, fools, drunks, puritans and yellow stockings, but it's also an experiment that riffs on the play's themes of identity, sexuality, doubling and fate. 
Virginia Plain is a Sydney-based production company, named in honour of Roxy Music and their toe-tapping glam rock banger. Like its namesake, the work they produce is adventurous, iconoclastic and a little bit glam. To find out more, visit the website
creative team
Director/Designer Victor Kalka
Assistant Director Isabella Milkovitsch
Costume Designer Bronte Barnicoat
Sound Designer Ryan Devlin
Composer Lachlan Massey
Production Manager Madeleine Picard
Stage Manager Christopher Starnawski
cast
Zachary Bush, Eleni Cassimatis
Lucinda Howes, Cameron Hutt
Sarah Greenwood, Rowena McNicol
Lucy Ross, Michael Smith
Leonard Sun, Patrick Sunderland
Caitlin Williams, Harry Winsome
dates/times
Previews Wed 6 & Thu 7 Jan 7:30pm
Press/Opening Night Fri 8 Jan 7:30pm
Wed – Sat 7:30pm
Sun 5pm
Final performance Sat 23 Jan 2pm
Running Time: 150 minutes, including interval
tickets
Full $38
Concession, Groups (6+) $28
Thrifty Thursdays, New Theatre Member $22
Previews $20
Please note: New Theatre is a general admission theatre and seat selection is done on a first-come-first-serve basis. As per NSW Public Health COVID-19 guidelines, we now running at 75% capacity (112 patrons). Where possible, we will endeavour to socially distance audience members and groups one seat apart, however with fuller houses, you may need to sit next to others. If you have any concerns, please contact our Theatre Manager manager@newtheatre.org.au
★★★1/2 "The production is an astute creation from Director/Designer Victor Kalka is a stripped back show with no trappings … But the night belonged to Sarah Greenwood as Malvolio. It is an hilarious creation woven with yellow threads of gloomy excellence written in physical lines which loosen as the character travels and a levity of delivery that has pontificating pronouncement in every drip." Reviews by Judith
"Director Victor Kalka's interpretation is an audience's heaven. Typically, a production laden with hilarious and confusing plots, he manages to also induce feelings of tragedy around human folly … Cameron Hutt and Sarah Greenwood shine in this production. Between them, they executed Shakespeare's well-timed comedic quips, scenes of unrequited love and desperation for affection to perfection." Theatre Travels
★★★1/2 "A contemporary production of a much loved rom com, it foregrounds gender fluidity and diverse casting while playfully integrating modern technology" Arts Hub
"Stand out performances came from Zac Bush as Viola who played between charm and confusion very well and Eleni Cassimatis as Sir Toby, a swaggering, drunken meddler who seemed comfortable in all unflattering circumstances. In terms of the comic relief, the lanky weed of Sir Andrew (Patrick Sunderland) slipped particularly well off the flat affect of Lucy Ross's Malvolio, a crowd favourite character." Night Writes
★★★"An appealing and nimble production" Audrey Journal
"It is a joy to see the actors bring this festive, mischievous, and witty production to life with such verve and enthusiasm." Broadway World

Main image and production images © Clare Hawley