BY CHRISTOPHER SERGEL
From the novel by Harper Lee
18 MARCH – 19 APRIL 2014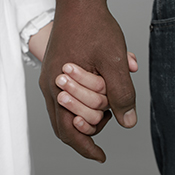 "You never really understand a person until you climb into his skin and walk around in it"
Nine-year old Scout's world is turned upside down when her widowed father, lawyer Atticus Finch, defends a young black man accused of raping a white woman.
As tensions erupt and neighbours take sides in the life-and-death case, it is Scout's clear-eyed courage in the face of ignorance and bigotry that ultimately brings hope to a damaged community.
Set against the backdrop of entrenched prejudices and deep inequality in the segregated world of 1930s Depression-era Alabama, this acclaimed adaptation brings to life the compassion, humanity and childish wonder of Harper Lee's much-loved Pulitzer Prize-winning novel.
"Tremendous heart and emotional depth" Daily Telegraph
Please note this production contains adult themes and is recommended for children over 10 years 
CREATIVE TEAM & CREW
Director Annette Rowlison
Set Designer Sasha Sinclair
Costume Designer Sarah Chelkowski
Lighting Designer Heidi Brosnan
Lighting Operator Ole Borch
Assistant Stage Manager Khadija Ali
Assistant Stage Manager Ryan Whitworth
Production Assistant Sandy Velini
CAST 
Khadija Ali, Katy Avery, Claudette Clarke, Sarah Carroll, Teagan Croft, Cheyne Fynn, Steve Donelan, Christine Greenough, John Keightley, Dave Kirkham, Kai Lewins, Craig Meneaud, Hudson Musty, David Ross, Donna Sizer, Lynden Jones, Peter Maple, Ryan Whitworth

TIMES 
Previews Tue 18 & Wed 19 Mar 7:30pm
Thu – Sat 7:30pm, Sun 5pm
Final performance, Sat 19 Apr 5pm
Running time is approx 2hrs and 5mins including interval
TICKETS
Full $32 | Concession $27 | Groups (10+) $27 | Members $22 | Previews $17 | Student Rush $17 | Thrifty Thursdays $17
★★★★  Daily Sydney
"It is impossible to not love To Kill A Mockingbird." SuzyGoesSee
"New Theatre speaks the words Australia needs to hear … As far as stage presentations of To Kill a Mockingbird go, you'll rarely see one as fine as this" Lisa Thatcher
"Vividly brought to life [with] warmth and sincerity" Sydney Arts Guide
"This stage adaptation is a crowd-pleaser sure to satisfy those who hold the novel close to our hearts." Time Out
"Support our local talent. They are brilliant!" OverACuppaCoffee
"A toasty and warm rendition of a classic … the ensemble cast were enchanting" Sh*t on Your Play 
"Amusing, engaging and very affecting … Exactly how far we've come in the last fifty years regarding racial bigotry is an open question. But theatre like this leads us to continue to ask that question. And to ask where else our blindness might lie." Veronica Kaye 
Photos © Bob Seary
Main image © Richard Hedger