THE HEIDI CHRONICLES
BY WENDY WASSERSTEIN
7 JUNE – 8 JULY 2016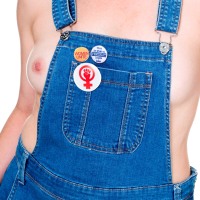 "I covet my independence"
A coming-of-age story that charts the changing role of women in society and the evolution of the 'baby boomers' who rebelled in the 1960s, became the 'me-generation' of the 1970s and embraced 'greed is good' in the 1980s..
Across three decades and four cities, Heidi and her friends – male and female, gay and straight – search for political, professional and personal fulfilment as youthful idealism sours, careers surge, relationships break down and biological clocks start ticking.
Inspired by Kennedy, disillusioned by Nixon and corrupted by Reagan, in the end they come to realize that the fight for what you believe can only take you so far and that liberation lies in being true to yourself.
Wendy Wasserstein's funny, touching, insightful elegy for her own lost generation and their often fraught relationship with feminism broke new ground in the presentation of women's stories on stage.
"To have a play on Broadway about the change that a woman goes through in her life … this is a revolution in itself" Gloria Steinem
CREATIVE TEAM
Director Alice Livingstone
Assistant Director/Vocal Coach Emma Louise
Set Designer David Marshall-Martin
Lighting Designer Louise Mason
Costume Designer Famke Visser
Sound Designer Michael Huxley
Assistant Sound Designer Luisa May
Choreographer Trent Kidd
Projections Michael Huxley, Luisa May
Production Manager/Co-Stage Manager Jo Jewitt
Co- Stage Manager Joan Cameron-Smith
Assistant Stage Manager/Production Assistant Keziah Knight
CAST
Sarah Aubrey, Matt Charleston, Lauren Dillon, Carolin Levien, Olivia O'Flynn, Amelia Robertson-Cuninghame, Darren Sabadina, Benjamin Winckle
TIMES
Previews Tue 7 & Wed 8 Jun, 7:30pm
Thu – Sat 7:30pm, Sun 5pm
Final performance, Sat 8 Jul 5pm
TICKETS
Full $32 | Concession $27 | Groups (10+) $27 | Members $22 | Previews $17 | Student Rush $17 | Thrifty Thursdays $17
A vibrant production that wears its heart on its sleeve, with an unmistakeable affection for the play's nostalgia … Consistently enjoyable" Suzy Goes See
"A brilliant piece of theatre.The play's themes are important to anyone regardless of their age. That transcendence is the beauty of good theatre" The Buzz From Sydney
"Has a lot to say to the current generation of 20 to 30-something women. There is humour and heartbreak throughout" The AU Review
"A phenomenal slew of actors … Each member of this fine cast laid claim to their character and wormed their way into our hearts … This production is not one to miss … it's a quiet revelation for the modern woman" Edgewise Productions
"Every bit hilarious as it is poignant … Each cast member is suited wonderfully to their role, forming an excellent ensemble of performers" Upstaged Reviews
"A confident, colourful production … Has something to say, and sends a message that regardless of their chosen path, women have a right to expect more from the world" Dinner and a Show
4 1/2 STARS! "An ode to women, their adaptability, difference and struggle. It's entertainingly relayed and takes life in its stride. A warming and moving production" The Music
"Takes us back to our feminist foundations … As important for viewing today as it was nearly thirty years ago" Broadway World
"With raked seating on both sides of the stage, the audience is closer to the actors, and the theatre feels a lot more intimate … the production features uniformly fine performances" SX News
Photos © Bob Seary
Main image © Richard Hedger