BY FRANCES GOODRICH & ALBERT HACKETT
9 JUNE – 11 JULY 2015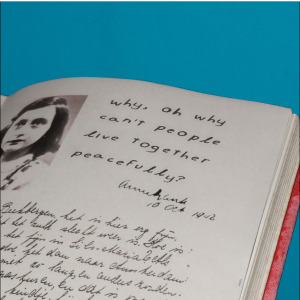 "Why, oh why can't people live together peacefully"
Anne Frank dreamt of immortality as a writer; she little realised that it would be her teenage diary that made her one of the most powerful voices in literature.
In German-occupied Amsterdam during World War II, the Frank family has gone into hiding with another Jewish family in the attic of Otto Frank's warehouse in order to escape persecution and imprisonment.
For two years, eight people live in one room, in fear of their lives, and 13-year old Anne documents their existence in forensic detail.  Through her precocious eyes are revealed the petty disputes, the personality clashes, the shared little pleasures: until, betrayed, they are discovered and sent to concentration camps.
Anne, her sister and mother all perished, but her father survived and published his daughter's diary as a testament to the resilience of the human spirit.
Last produced by New Theatre in 2001, we are proud to be revisiting this extraordinary drama, winner of both the Tony Award and Pulitzer Prize for Best Play, to commemorate the 70th anniversary of Anne's death at the Bergen-Belsen concentration camp.
"An emotionally affecting drama … credible and well-drawn performances … sensitive direction, quality design" Jason Blake, SMH
SPECIAL EVENTS
Intolerance Forum
Sun 21 June 2pm
Holocaust Survivor Talk
Sun 28 Jun 3pm
Post-show Cast Q&A
Sun 5 Jul
All events free of charge
CREATIVE TEAM
Director Sam Thomas
Set Designer Allan Walpole
Costume Designer  Famke Visser
Lighting Designer Heidi Brosnan
Sound Designer James Ackland
Original Music Leonie Cohen
Assistant Director Claudia Barrie
Assistant to Director Christie Wykes
Set Construction Rodger Wishart
Production/Stage Manager Jo Jewitt
CAST
James Bean, Caroline Levien, Rowena McNicol, Jessie Miles, Jodine Muir, Martin Portus, Martin Searles, Geoff Sirmai, Justina Ward, David Wiernik
TIMES
Previews Tue 9 Jun & Wed 10 Jun 7:30pm
Thu – Sat 7:30pm, Sun 5pm
Matinee Thu 25 Jun, 11am
Final performance, Sat 11 Jul 5pm
Running Time: 2hrs 35mins with 20 minute interval
TICKETS
Please note: the last 3 performances of The Diary of Anne Frank are sold out. Any returned tickets will be available  at the  door on the night of the performance. Your name will be added to a list once the box office opens and and you will be sold tickets in chronological order. Box office opens an hour before each show and you need to be here in person to receive the ticket. 
Full $32 | Concession $27 | Groups (10+) $27 | Members $22 | Previews $17 | Student Rush $17 | Thrifty Thursdays $17
Suitable for school children of all ages
PRODUCTION PARTNER

Interview: The Diary of Anne Frank packs emotional punch for cast with holocaust links
Interview with director Sam Thomas: New Theatre revisits the award-winning adaptation of The Diary of Anne Frank
★★★★ "Outstanding performances and thoughtful direction make for a compelling production with a potent message" Arts Hub
"Nuanced and sensitive, but also exuberantly dynamic… The chemistry on stage is effortless… Thomas and her team have revealed afresh a tale of humanity and hope that will touch even the hardest of hearts."  SuzyGoesSee
"The play reminds us that it's often the glimpses of what we share with other humans that give stories real emotional resonance. This production presents those glimpses with sensitivity and compassion"  AussieTheatre.com
"An excellent production … the actors portrayed their characters with empathy and authenticity … set, music, lighting were all flawless"  WhatsOnSydney 
"This eloquent revival brings Anne Frank's painful and sad story to life"  Sydney Arts Guide
"An emotionally affecting drama … credible and well-drawn performances … sensitive direction, quality design"  Jason Blake, SMH
"Powerful direction … emotionally charged performances … Compelling and insightful, this story of discrimination and racial intolerance is a fine tribute to the millions of Jews who perished in one of the darkest chapters in history"  Alt Media
"Heartbreaking … a must-see"  Absolute Theatre
"New Theatre took great care to bring this play to the stage and in every sense did it justice"   Stage Whispers
★★★★ "Director, cast and crew have created a miniature epic … Deserves a substantial accolade … I walked in wondering why the production was here and now and walked out knowing. See it"  The Music
Photos © Bob Seary
Main image © Richard Hedger