ADAPTED BY RICHARD ROXBURGH AND JUSTIN MONJO,
FROM THE NOVEL BY TIM WINTON
15 MARCH – 16 APRIL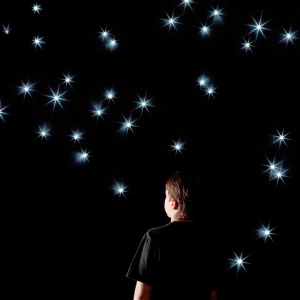 "God's everywhere Ort. In everything. The trees, the ground, the water. Everything stinks of God, reeks of him."
In the Western Australian town of Subiaco, 13-year-old Ort Flack is coming to terms with terrible changes in his world.
Long ago, his parents 'dropped out' to follow a hippie lifestyle. Now his father lies paralysed in a coma, his older sister is consumed by hate, his grandma exists in a fog of dementia and his once-carefree mother can't cope.
For Ort, the struggle to understand the world around him draws him towards the supernatural. Lonely, frightened, loving unconditionally and full of optimism, he becomes obsessed with the belief that somewhere 'up there' someone or something watches over them all, controlling their destiny, and that his father can be cured.
Then one day a mysterious stranger appears and bewitches them all.
Tim Winton's novel about a young boy's experiences of love, loss, faith and family has been adapted into an evocative piece of theatrical magic-realism embracing the author's rich colloquial language and infused with humour, spirituality and humanity. + 
"This production is a marvel, slick and smooth, cleverly and innovatively realised, and beautifully designed" Theatre Now
CREATIVE TEAM
Director David Burrowes
Set Designer Tom Bannerman
Costume Designer Alana Canceri
Lighting Designer Benjamin Brockman
Co-Sound Designer/Composer Hugo Smart
Co-Sound Designer/Composer Dean Revell
Dramaturg Rachel Chant 
Production Manager Mikaela Atallah
Stage Manager Patrick Howard
CAST
 Alex Bryant-Smith, Joel Horwood, Shaun Martindale, Jenae O'Connor, Romney Stanton, Simon Thomson, Emma Wright
TIMES
Previews Tue 15 & Wed 16 Mar, 7:30pm
Thu – Sat 7:30pm, Sun 5pm
Final performance, Sat 16 Apr 5pm
TICKETS
Full $32 | Concession $27 | Groups (10+) $27 | Members $22 | Previews $17 | Student Rush $17 | Thrifty Thursdays $17
"An immersive theatrical experience … some of the best staging seen at New Theatre … the story is compelling and the characters are endearing" To Flaneur
"An ambitious play for any company to undertake but director David Burrowes and his creative team have honoured both the mood of Tim Winton's original story and a script that is almost filmic in its complexity … A definitive theatrical experience lifted by clever, perceptive direction that uses some innovative ideas, the skills of a very talented and responsive cast and the imagination of creative designers" Stage Whispers
"A very beautiful affair … The staging, the lights, the sound and the props really call forth the spirit of the best of Tim Winton and make the theatre experiences very exciting … The wonderful cast are all on point and a great pleasure to watch … This is a fine production. Highly recommended"  Lisa Thatcher
"Astounding … Directed by David Burrowes, this production is a marvel. It is slick and smooth, cleverly and innovatively realised, and beautifully designed … The actors give strong performances, and are hugely committed to their roles … Visually mesmerising."  Theatre Now 
"A feast for the senses …All facets of production are impressively executed. The design team does exceptional work." Suzy Goes See
An intense night of theatre with some unexpected comic flourishes, the innovative stage design and direction are the real stars of the production" Arts Hub
"Clever use of movement and an ambitious stage design gives [the production] strong visual appeal … An energetic ensemble cast worked well together … It's always wonderful to see and support the great variety of high quality independent theatre that New Theatre provides."  Oz Baby Boomers
"A dark and mysterious play anchored by a cast at the top of their game" Aussie Theatre
Photos © Bob Seary
Main image © Richard Hedger