MUSIC & LYRICS BY STEPHEN SONDHEIM
LIBRETTO BY HUGH WHEELER
18 NOVEMBER – 20 DECEMBER 2014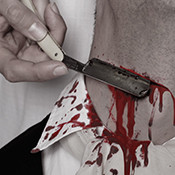 "I will have vengeance. I will have salvation."
A powerful story of lust, murder, love, retribution – and some remarkably tasty pies!
Combining violent and erotic horror with social commentary and a poignant love story, Stephen Sondheim's musical retelling of the legendary fable of the murderous 'demon barber' – part melodrama, part Grand Guignol blood-fest – is by turns shocking, intensely moving and brutally funny.
With its compelling book, dazzling lyrics and glorious score, Sweeney Todd is one of the great theatrical creations.
"An unexpected musical thrill …  the company is an outstanding ensemble … Do go!" Kevin Jackson
CREATIVE TEAM & CREW
Director Giles Gartrell-Mills
Musical Director Liam Kemp
Choreographer Trent Kidd
Assistant Director Sam Thomas
Assistant Musical Director/Vocal Coach Vicki Watson
Costume Designer Brodie Simpson
Lighting Designer Liam O'Keefe
Production/Stage Manager Jo Jewitt
CAST & BAND
Josh Anderson, Erin Bogart, Briony Burnes, Jamie Collette, Justin Cotta, Daisy Cousens, Courtney Glass, Michael Jones, Jaimie Leigh Johnson, Anastasya Lonergan, Liam Kemp,  Laura Mackinnon, Lucy Miller, Carl Olsen, Joel Paszkowski, Steven Ritchie, Chelsea Taylor, Aimee Timmins, Simon Ward, Byron Watson
TIMES 
Previews Tue 18 & Wed 19 Nov 7:30pm
Thu – Sat 7:30pm, Sun 5pm
Final performance, Sat 20 Dec 5pm
TICKETS
Full $35 | Concession $30 | Groups (10+) $30 | Members $22 | Previews $17 | Student Rush $17 | Thrifty Thursdays $17
"This production does true justice to Sondheim's work"  TheAUReview
"Delightful and thrilling" AltMedia
"Raw emotion and violent passion" Jason Blake, SMH
"I want to go and see it again" Sydney Arts Guide
"This is a massive musical and the acting, singing, choreography is outstanding. The cast is supported by a great trio of musicians. Theatre Now's What's Hot – don't miss it!"
"The wave of talent on stage smashes its audience in the face … this will be the highlight of your 2014 theatrical calendar"  ShitOnYourPlay
"We all love a musical that has everything; humour, drama, talent, surprise and great music. All this is found in Sweeney Todd at New Theatre … We do not think of independent theatre as the best platform for the majestic, opulent musical, but on this occasion, David has emerged seemingly out of nowhere, to slash the throat of Goliath in awesome splendour." SuzyGoesSee
"New Theatre's production proves there's more than one way to cut and serve this masterpiece"  SameSame 
"Worth catching … an unexpected musical thrill … New Theatre has proven that 'a mouse can roar' with some great accomplishment … the company is an outstanding ensemble … Do go!" Kevin Jackson
"New Theatre stages the musical in a way that you have to think Sondheim himself would love: unamplified, unpretentious, raw, honest and true … A  really fine production … will leave an indelible mark on the memory." Diana Simmonds, StageNoise
"A great play, and an important one, and this production is an excellent addition to its long and fruitful life" Lisa Thatcher
Photos © Bob Seary
Main image © Richard Hedger