BY PETER NICHOLS
MUSIC BY DENIS KING

11 FEBRUARY – 8 MARCH 2014
Presented in association with the Sydney Gay & Lesbian Mardi Gras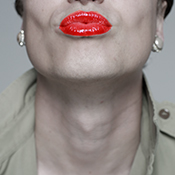 "In fairyland, my dears, there's nothing new
True love, a song, a dance, a death or two"
When young and innocent Private Steven Flowers is posted to entertain the British troops during the Malayan Emergency in 1948, he finds himself in a company of military misfits.
The star of the troupe is flamboyant Captain 'Auntie' Terri Dennis, running the gamut of drag from Carmen Miranda to Marlene Dietrich to Vera Lynn. With a penchant for sailors and a heart of gold, he benevolently guides this group of shy, sexually inexperienced young lads, straight and gay, as they journey from boys to men.
Peter Nichol's delightful coming-of-age comedy is underpinned by darker political themes and personal stories of fear, loneliness and falling in love, all served up in a camp concoction of songs, dance, blokes in frocks and very naughty laughs.
CREATIVE TEAM & CREW 
Director Alice Livingstone
Assistant Director Mark Croasdale
Musical Director John Short
Choreographer Trent Kidd
Set Designer Allan Walpole
Lighting Designer Tony Youlden
Sound Designer Ashley Walker
Dialect Coach Gabrielle Rogers
Stage Manager Jo Jewitt
ASM Amy Micaleff, Laura Mascaro
Operators Ole Borch, Johannes Swaton
CAST 
Matt Butcher, Jamie Collette, Peter Eyers, David Hooley, Morgan Junor-Larwood, James Lee, Henry Moss, David Ouch, Diana Perini, Martin Searles, Gerwin Widjaja
BAND

Piano/Keyboards John Short
Drums Gina Schien
Double bass Laura McKinnon
Cello Elias Sarez
TIMES 
Preview Wed 12 Feb 7:30pm
Thu – Sat 7:30pm, Sun 5pm
Parade day performance, Sat 1st Mar 2pm
Final performance, Sat 8 Mar 5pm
TICKETS
Full $32 | Concession $27 | Mardi Gras Members $25 | Groups (10+) $27 | Members $22 | Previews $17 | Student Rush $17 | Thrifty Thursdays $17
An excellent choice for Mardi Gras" Suzy Wrong, Suzy Goes See 
"By turns funny, perceptive and thought-provoking … the cast is energetic, enthusiastic, multi-talented … there is much contemporary relevance in this very poignant play" Carol Wimmer, Stage Whispers 
"Absolutely fabulous … the entire cast has so much fun on stage, all with great individual moments … riotously entertaining"  Nathan Finger, Dinner and a Show
"Great fun.  Overflowing with humour and playful musical numbers, it's entirely captivating … the entire cast does brilliant work"  Veronica Kaye, Theatre Red
"As camp as the proverbial row of (army) tents, but beneath the flaming double entendres and antique English humour there is an edge … it's the kind of show the New Theatre do very well."  Jason Blake, SMH
"A great Mardi Gras choice … a tightly choreographed and directed ensemble piece … the joy of the show is contagious … if you needed an excuse to get to the theatre, this is as good as any."  SOYP
"A seriously funny play … direction and choreography is inspired … the actors do an exceptional job .. a dazzling production" ‪ The Buzz From Sydney
"An exuberant production that gives full vent to the show's camp humour and production numbers … an enjoyable evening" Jo Litson, Sunday Telegraph
"Like a fine wine, comedies like Privates on Parade only get better with age, richer in message, and deeper in nuance as they get older. This is a wonderful chance to see a play that needs to be seen several times, in several ways throughout a lifetime."  Lisa Thatcher
"A little charmer and more memorable/successful as an experience than the recent London production" Kevin Jackson
 "a delicious sense of fun … a lot of joy to be had … the ultimate success of this production lies in its ability to showcase the common empathy of humanity rather than difference."   Nic Bassill
"hugely entertaining .. a wittily staged production … an excellent cast. Well worth seeing." SX Magazine
Photos © Bob Seary
Main image © Richard Hedger