5 february – 2 march 2013
Australian Premiere, presented in association with the Sydney Gay & Lesbian Mardi Gras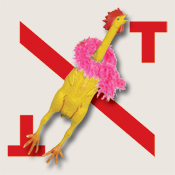 "I'm fulfilling my friggin' destiny!"
A playful, outrageous and funny coming-of-age tale about sexual awakening, growing up gay … and what happens when your best friend is a chicken.
Emory is an 11-year-old boy living with his grandmother in the Bible Belt of rural America. His best friend, Linda, is a depressed giant chicken who wants to be a stand-up comic. He loves choreographing ribbon dances, 'playing house' with Elliot, the 12 year old pyromaniac who lives down the road, and his greatest ambition is to be a contestant on a TV talent show.
MILKMILKLEMONADE is a painfully funny exploration of gender, sexuality, life, death and the need to dream up a world where you can be true to yourself. Underlying the comedy is a real anger directed towards the homophobia, bullying and small-mindedness that constitutes daily life for many young gay people.
Written by up-and-coming New York based gay writer Joshua Conkel, New Theatre is proud to be presenting the Australian premiere of this seriously wonderful queer romp.
CREATIVE TEAM
Director Melita Rowston
Set Design Antoinette Barbouttis
Lighting Design Richard Whitehouse
Sound Design Kent Rowston
Production Manager Fern George
Stage Manager Gaëlle Clark
Choreographer Angela Blake
Assistant Choreographer Joel Thomas
Dialect Coach Helen Tonkin
CAST
Mark Dessaix, Leah Donovan, Sarah Easterman, Kieran Foster, Pete Nettell
TIMES



Previews Tue 5 & Wed 6 Feb 7:30pm
Wed – Sat 7:30pm, Sun 5pm
Final performance,Sat 2 Mar, 2pm
TICKETS
Full $32 | Concession $27 | Mardi Gras Members $27 l Groups (10+) $27 | Previews $17 l Student Rush $17 l Cheap Wednesdays $17
Please note:  this production contains smoking, smoke effects adult themes and ribbon dancing!
"Conkel blends high camp, subversive comedy and playful references into a romp with a serious point [and] Rowston's production has the measure of the play's kookiness." Jason Blake, SMH
"Hilarious. Thought-provoking. … I recommend this play to everyone." What's On Sydney
"To pull off a play with such dark subject matter, in such a light, playful and clever way takes a wonderful director and a truly great cast. This group does a stellar job that I can't imagine being done better … Highly recommended" Lisa Thatcher
"At once fantastical and realistic, funny and moving … some great performances and some really clever direction." Jodi McAlister
"Gets my vote for the "OMG, You HAVE to See This Show" award for the Mardi Gras season." MC Reviews
"If you're in the mood for fun and you're a gay or gay-friendly indie theatre lover. This one's for you." James Waites
"A tremendous amount of outrageous fun …Let's have more theatre like this, bursting at the seams with utterly unpredictable surprises." Australian Stage Online
"A love story filled with lightness and hope [and] told with affection and heart, a fresh, honest perspective and true hilarity at times … A very moving, intelligent play about the search for self-acceptance and the power of imagination." Theatre People
"A joyous play … this production is superb" Veronica Kaye
Interview with Director Melita Rowston alternative media group
Photos © Bob Seary
This is an archived page from the old website