MARAT/SADE
BY PETER WEISS,
TRANSLATED BY GEOFFREY SKELTON,
POEMS TRANSLATED BY ADRIAN MITCHELL
5 OCTOBER – 5 NOVEMBER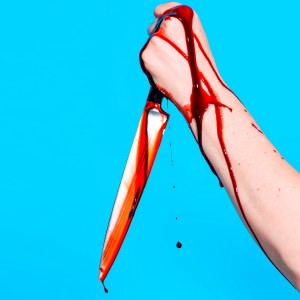 "We want our rights and we don't care how/
We want our revolution NOW"
The Persecution and Assassination of Jean-Paul Marat as Performed by the Inmates of the Asylum of Charenton Under the Direction of the Marquis de Sade, commonly known as Marat/Sade, shook the theatre world to its core when it premiered in the 1960s.
Set in 1808 in the bath hall of a French provincial asylum where the Marquis de Sade often performed plays with the inmates during his imprisonment, this play-within-a-play presents a re-enactment of the brutal murder of revolutionary firebrand Marat by the demented partisan and fellow revolutionary Charlotte Corday.
Peter Weiss embraced the theatrical devices of pioneers such as Artaud and Brecht to present a bawdy, bloody, unrelenting political parable, pitting Marat's socialist philosophy of equality and freedom from oppression against Sade's rampant anarchic individualism, questioning class struggle and asking where true revolution lies: by changing society or changing the individual?
The first English production was directed by Peter Brook for the Royal Shakespeare Company. It was radical, it was avant-garde and it changed British theatre forever.
This production views Weiss's ground-breaking play through the prism a modern day 'Theatre of Cruelty': the decade and a half from the Twin Towers to the mess in Syria, drawing parallels with the lives of people currently seeking refuge from war and revolution only to end up in the madness of detention centres around the world.
"This play is a kick in the balls" Peter Brook
CREATIVE TEAM
Director Barry French
Composer Nate Edmondson
Set Designer Tom Bannerman
Lighting Designer Spiros Hristias
Costume Designer Nicola Block
Assistant Director Shannan Ely
Production Supervisor Martin Kelly
Production Manager Sheridan Tampion
Stage Manager Rosane McNamara
Assistant Stage Manager Ricci Costa
Costume Assistant Catriona McCabe
Dramaturg Helen Tonkin
Psych Consultant Joy Stewart
Operators Ole Borch, Scott Bray, Laura Smith
CAST
Tom Aldous, Kaiya Bartholomew, Andrea Blight, Debra Bryan, Lyn Collingwood, Garreth Cruikshank, Tahlia Hoffman Hayes, Tim De Sousa, Gregory Dias, Patrick Howard, Isaro Kayitesi, Mark Langham, Leilani Loau, Jim McCrudden, Lynn Roise, Emmanuel Said, Irene Sarrinikolaou, Alia Seror-O'Neill, Liam Smith, Peter Talmacs, Annette van Roden, Jacque Vickers
TIMES
Preview Wed 5 Oct, 7:30pm
Thu – Sat 7:30pm, Sun 5pm
Final performance, Sat 5 Nov 2pm
TICKETS
Full $32 | Concession $27 | Groups (10+) $27 | Members $22 | Preview $17 | Student Rush $17 | Thrifty Thursdays $17
Photos © Bob Seary
Main image © Richard Hedger