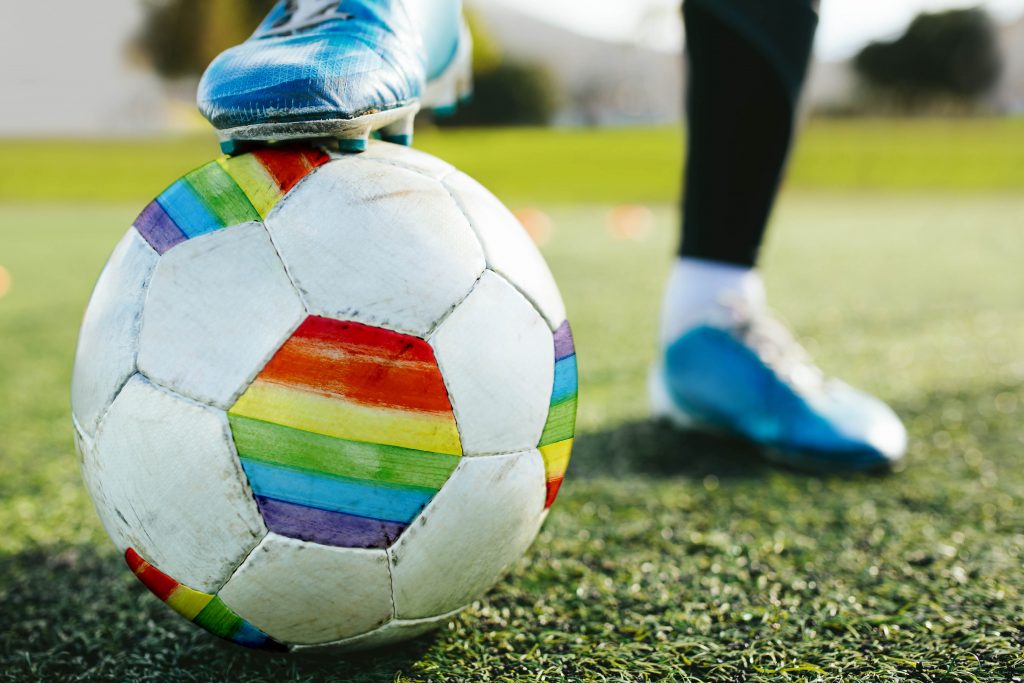 JUMPERS FOR GOALPOSTS
by TOM WELLS
7 Feb – 4 Mar 2023
SYDNEY PREMIERE,
PRESENTED AS PART OF SYDNEY WORLDPRIDE PRIDE AMPLIFIED
"I'm not asking you to win. I'm asking you to just chuck your face at it, have a fucking good go at it. And then we'll see."
A hilarious and heartwarming comedy about football, friendship and finding your way.
Barely Athletic are a bottom-of-the-ladder queer five-a-side soccer team in a local LGBTQI+ amateur league in Hull, England.
Publican Viv, the player-coach, was thrown out of Lesbian Rovers for being too bossy. Her brother-in-law Joe, the team's token straight guy, is seriously unfit – and grieving the recent death of his wife. Beardy Geoff, a gay busker with dreams of Hull Pride stardom, has a weakness for sex with opposing players.
And shy library assistant Luke only joined because he's got a crush on sports science student Danny, who's struggling with issues of his own.
Though on-field success is what they're after, it's how these five very different personalities support each other off the field that lies at the heart of this unsentimental, utterly charming, feel-good story.
"Truly exceptional, sparkling with wit"  What's On Stage, London
The title Jumpers for Goalposts refers to pick-up amateur soccer matches in the UK, often played on a street or in a park, where jumpers (or other objects) are used to indicate the goalposts.
Director Alice Livingstone penned an open letter to Frooty magazine about the play.
Patrons please note: this production contains strong language, adult themes and partial nudity. It is recommended for ages 15 and up.
creative team
Director Alice Livingstone
Set Designer Tom Bannerman
Lighting Designer Mehran Mortezaei
Costume Designer Bella Rose Saltearn
Dialect Coach Benjamin Purser
Soccer Coach Geoff Sirmai
Intimacy Director Shondelle Pratt
Make-up Consultant Melanie Gjura 
Stage Managers Jo Jewitt, Jake Fisher, Rosane McNamara
Operator Ricci Costa
cast
Isaac Broadbent, Nick Curnow
Emma Louise, Sam Martin
Jared Stephenson
dates/times
Preview Tue 7 Feb 7:30pm
Opening Night Wed 8 Feb 7:30pm
Thu – Sat 7:30pm, Sun 5pm
Sat 25 Feb & Sat 4 Mar 2pm only
Running time: 2 hours including a 15min interval. 
Please note: latecomers will be admitted during a suitable break in the performance
tickets
Full $35
Concessions, Groups (6+) $30
Mardi Gras Members $25
New Theatre Members $22
Thrifty Thursdays $22
Preview $20
COVID- Safe protocols:
QR code and vaccination checks are no longer required.
Face masks are not mandatory, but recommended.
★★★★
"Director Alice Livingstone has got the casting dead right…her highly attentive ear and eye also recognises the telling details…Tom Bannerman has outdone himself with the set …This cast seizes the opportunity to play just like their characters. They are all excellent. They make the things these people say worth hearing. And those things are often funny and honest and not often heard. There's little, if anything, to fault in this production – it is beautifully done. See it while you can!"
Theatre Now
"Sharp writing and charmingly eccentric characters make for an engaging evening of entertainment…The performances are excellent across the board."
Jason Blake, Limelight Magazine
"Heartfelt and comedic in all the right ways, elevated by a talented combination of creatives (both cast and crew)."
Theatre Travels

"Tom Wells' charming play about a hopeless gay soccer team trying to get off the ground is a winner for New Theatre." Stage Whispers
"Set design by Tom Bannerman is extraordinarily well constructed, and highly believable as a well-worn changing room. The warmth of Mehran Mortezaei's lights are effective at helping persuade and remind us, of the humanity on display. Bella Rose Saltearn's costumes are rigorously considered, finished with a level of detail that never fails to impress." Suzy Goes See
"A fine production of a very skilfully written play [and] a very fitting salute to New Theatre's 29 years of theatre-based support of Mardi Gras and everything it entails…A gentle, compassionate play." Carol Wimmer
"The theatre equivalent of your favourite feel-good sports movie; a charming and joyful story of football and friendship…Such a sweet comedy, and the audience thought so too." Toasting Aussie Theatre
"New Theatre has kicked another goal…Emma Louise is terrific as the tough love Viv, as is Nick Curnow as Joe, a gentle giant, bereft and adrift. Jared Stephenson is marvellously eccentric as Beardy Geoff…Isaac Broadbent as the centred, secret-harbouring Danny and Sam Martin as the gormless Luke make an attractive pair of star crossed lovers…This unabashedly, utterly charming, feel-good story is life affirming and a  heart felt confirmation of the value of community." Sydney Arts Guide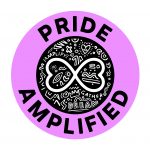 Main image: © Jacob Lund/Shutterstock/Christina Hatzis
Production images: © Bob Seary