BY RICHARD BEAN
7 OCTOBER – 8 NOVEMBER 2014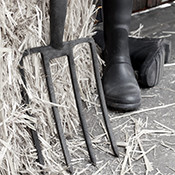 "Pigs!  It in't nowt but mathematics.  All you need's a system."
This sprawling comic romp follows four generations of a Yorkshire pig-farming family as they fight to protect their livelihood over the course of the 20th century.
At the heart of the story is the life of William Harrison, beginning as a 19 year old eager for adventure in the trenches of the Somme during WWI and ending as a wise-cracking 109 year old whose candle shows no signs of snuffing out.
The Harrisons are battlers and survivors, and no amount of adversity – be it two world wars, the Depression, fatal shootings, armed robbery, attempted rape or commercial failure – can extinguish their intrinsic optimism and pragmatic outlook.  Bean, the celebrated writer of One Man, Two Guvnors, has created a theatrical landscape of epic proportions and infused this family saga of life on the land with a wickedly quirky humour and a deep understanding of human nature.
"A wonderful theatrical experience. One not to be missed." – Lisa Thatcher
CREATIVE TEAM & CREW 
Director Louise Fischer 
Assistant Director Deborah Mulhall
Set Designer Bethany Sheehan
Sound Designer Alistair Wallace
Lighting Designer Tony Youlden
Production Manager Marc Larkin
Stage Manager Douglas Cairns
CAST
Nick Bolton, Sarah Carroll, Alex Chalwell, Xavier Coy Peter Eyers, John Keightley, Dave Kirkham, Annie Schofield, Isabella Tannock, Abi Rayment, Benjamin Vickers, Bishanyia Vincent Steve Vincent, Jeremy Waters   
TIMES 
Previews Tue 7 & Wed 8 Oct 7:30pm
Thu – Sat 7:30pm, Sun 5pm
Final performance, Sat 8 Nov 5pm
Running time 2hrs 30mins (includes interval)
TICKETS
Full $32 | Concession $27 | Groups (10+) $27 | Members $22 | Previews $17 | Student Rush $17 | Thrifty Thursdays $1
"Thought provoking characters and events that move us" Suzy Goes See
"A glorious celebration of the breathing, heaving pleasure live theatre is in its heart …Thumping applause and whistles as the audience awoke to the magic that was enveloping them. Harvest is a wonderful theatrical experience. One not to be missed." Lisa Thatcher
"The wonderful thing of this play is the drawing of the characters … with deep admiration and affection and a warm-hearted sense of the comic … the humanity is the jewel of the writing, the comedy its sparkle"  Kevin Jackson
"Rambunctious humour and heart" Jason Blake, SMH
"Director Louise Fischer has a conspicuous triumph on her hands with this production … hugely entertaining. This monster play is monstrous only in length and scope, and well worth having a look at." The Buzz From Sydney
"The talented cast sustain our interest throughout and bring their characters vividly to life … Tightly efficient direction sustains brisk dramatic movement whilst perfectly orchestrating the comedic balance. …There is so much to admire in this ambitious production and the dedication of the cast and crew is to be applauded. Thumbs up!" Oz Baby Boomers
Photos © Bob Seary
Main image © Richard Hedger