BOOK, LYRICS & MUSIC BY LINDA ARONSON
17 NOVEMBER – 19 DECEMBER 2015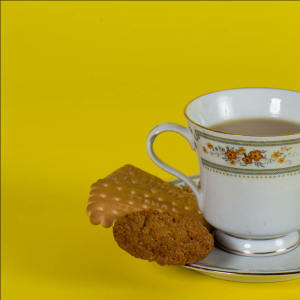 "Over my dead body he's selling us up for scrap!"
During the wartime winter of 1942, in the remote country town of Warrabadanga the female workers at the Dinkum Biscuit Factory are battling to keep the biscuits baking.
For these ordinary Aussie women in a town devoid of men, life is challenging. Not only are they fighting to save the factory machinery from being sold for scrap, they're running a 'Mum's Army' Civil Defence Unit, putting on a show for the 'War Effort' – and coping with the sudden arrival of two thousand American airmen who've been stationed just outside town.
This poignant, yet very funny musical comedy about a group of women striving for personal and professional freedom against the backdrop of a changing world serves up a slice of Australian social history with laughter, tears, songs, tap dancing – and Rita, the regimental goat!
"Singing, dancing, drama and comedy presented by a superb cast" The Music
CREATIVE TEAM
Director Sahn Millington
Musical Director Fabian Ceccato
Assistant Musical Director Cosimo Gunaratna
Choreographer Alyssha Clarke
Set/Prop Designer David Marshall-Martin
Lighting Designer Liam O'Keefe
Costume Coordinator Kiara Mullooly
Sound Designer Ryan Devlin
Assistant Director/Production Manager Mark Nagle
Music & Vocal Coordinator Kieran Fox
ASM/Props Ricci Costa
CAST
Debra Bryan, Melissa Burgess, Colleen Cook, Emily Crotti, Bodelle De Ronde, Alison Eaton, Sonya Kerr, Denise Kitching, Gemma Laffan, Amanda Laing,Cassady Maddox, Lois Marsh, Patricia McLoughlin, Hannah Raven Smith, Alizon Vosburgh
TIMES
Previews Tue 17 Nov & Wed 18 Nov 7:30pm
Thu – Sat 7:30pm, Sun 5pm
Final performance, Sat 19 Dec 5pm
TICKETS
Full $32 | Concession $27 | Groups (10+) $27 | Members $22 | Previews $17 | Student Rush $17 | Thrifty Thursdays $17
"Highlights the dichotomy between the concept of 'men's work' and the role of women [and] provides a splendid reminder of the durability and vitality of women, when their surroundings seem to be falling apart." Upstaged Reviews
"An idealistic portrait of our country women. Dynamic, fun-loving , resourceful and optimistic, their strengths encompass the best of humanity, and represent an excellent example of how communities should view themselves." Suzy Goes See
"A wonderful piece of theatre … not only a joy to watch but an informative perspective of lives that were lived in this country not that long ago." Australian Stage
"With fifteen strong female leads, the show bursts with vibrancy and excitement … The cast was a delight … This play showcased distinctly Australian human stories. I recommend it to all." To Flaneur
"Charming and amusing … a celebration of life … Director Sahn Millington's mission to provide a fun night at the theatre has fulfilled its brief with this glittering production." The Buzz From Sydney
"If you're looking for a fun and frivolous night out at the theatre, Dinkum Assorted is the one to see." Theatre Now
"Dinkum Assorted will appeal to anyone that enjoys home grown work, wants to support women in the performing arts industry and enjoys a little song and dance" BroadwayWorld.com
"A wonderful play … a terrific production … Under Sahn Millington's precise, deft direction the cast performs exuberantly … This show is a vibrant, inspirational celebration of women and community." Sydney Arts Guide
4 ½ stars! "Singing, dancing, drama and comedy presented by a superb cast" The Music
"A fun and thought-provoking night out … terrific performances" Theatre Red
Photos © Bob Seary
Main image © Richard Hedger