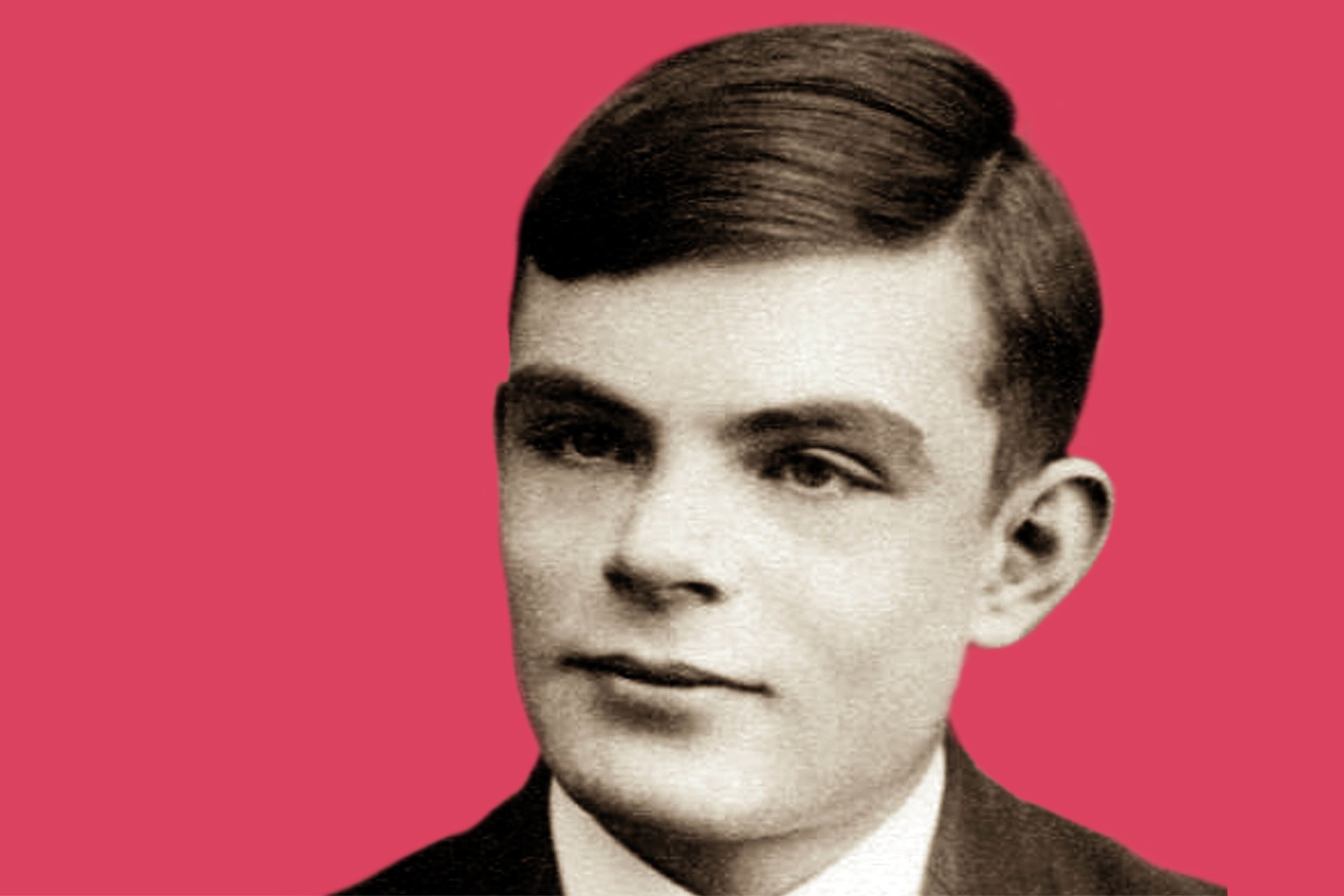 BREAKING THE CODE
by Hugh Whitemore
11 February – 5 March 2022
Presented as part of the Sydney Gay & Lesbian Mardi Gras
"Each problem – each decision – requires fresh ideas, fresh thoughts"
During the Second World War, tucked away in the country at Bletchley Park, the most brilliant mathematical minds in Britain were working to crack the complex German military code known as Enigma.
One of them was the eccentric genius Alan Turing, who invented a machine that broke the code. For his efforts, which shortened the war by two years and saved an estimated two million lives, he was decorated by Churchill, but the top-secret nature of his work meant that his vital contribution remained unknown to the wider public.
But Enigma wasn't the only code he broke. At a time when homosexual acts were considered a criminal offence, Turing's arrest on a charge of gross indecency after admitting to a sexual liaison with a young man he'd recently met, shattered the homophobic social code.
The public humiliation that followed, and his choice to undergo chemical castration rather than serve a prison sentence, left him physically and mentally debilitated. In 1954, he died by his own hand, aged 41, forgotten and alone.
Half a century later, Turing is now lauded as a British hero. After being posthumously pardoned by the Queen, his story was immortalised in the film The Imitation Game starring Benedict Cumberbatch. The legislation that secured pardons for 75,000 other men and women convicted of similar crimes has become known as 'the Alan Turing Law', and in 2021 he became the new face of the £50 note.
This acclaimed biographical drama investigates who he was, what happened to him, and why. It's a compassionate and poignant depiction of the life of an extraordinary man, his creativity, his yearning for love and companionship, and his deep humanity.
"Powerful, riveting drama" New York Daily News
Cast member Martin Portus shares a behind-the-scenes view of the production, and the closeted life lead by Alan Turing and so many gay men of his generation, for Audrey Journal
Director Anthony Skuse reveals insights into the play and his interpretation in a chat with Reviews by Judith
creative team
Director & Production Designer Anthony Skuse
Vision Designer Patrick Phillips
Lighting Designer Jordan Russell
Sound Designer Naomi Belet
Vocal Dialect Coach Benjamin Purser
Assistant Director & Production Manager Talia Benatar
Technical Consultant Mehran Mortezaie
Stage Manager/Operator Sarah McDonagh
Operator Cindy Cavero


cast
Naomi Belet, Igor Bulanov,
Steve Corner, John Grinston
Bridget Haberecht, Jason Jefferies
Leilani Loau, Ewan Peddley
Martin Portus, Dallas Reedman
Harry Reid, Jess Vince-Moin
dates/times
Preview Fri 11 Feb 7:30pm
Press Night/Opening Night Sat 12 Feb 7:30pm
Thu – Sat 7:30pm, Sun 5pm
Final performance Sat 5 Mar 2pm
Running time: 2hrs, 20 mins (including interval)
tickets
Full $35
Concessions, Groups (6+) $30
Mardi Gras Members $25 (with promo code)
New Theatre Members $22
Thrifty Thursdays $22
Preview $20
COVID- Safe protocols:
QR code and vaccination checks are no longer required.
Face masks are not mandatory, but recommended.
★★★★  "In having three actors play Alan Turing at various stages of his life, and two play his mother, director Anthony Skuse is ritualising the play's events to emphasise their endless repetition throughout history. This is the director's art on full display: not tampering with an exceptional text, but compounding its impact."  John Shand, SMH
★★★★ "An engrossing, satisfying piece of theatre and a highlight in the Mardi Gras arts program." Time Out
3.5 stars "New Theatre's contributions to the Mardi Gras Festival have been notably good over recent years. Its latest, a production of this biographical drama, is up there with the best of them…Anthony Skuse's staging (he's also the designer) is thoughtfully calibrated…and the performances he elicits from a 12-strong cast are very convincing…The poise and understated elegance of this production keeps us hard-wired into central tragedy of Turing's life." Jason Blake, Audrey Journal
"With an incredible scientific legacy overshadowed by the eventual exposure of his sexuality, Whitemore's play presents both sides of Alan Turing's life…Directed by Anthony Skuse, it is beautifully rendered…A captivating work that is both informative and entertaining." Broadway World
"Director Anthony Skuse brings sensitivity and an immense melancholy to his staging…with beautiful work on a set that provides inordinately elegant performance spaces, for every scene. Along with Patrick Phillips' video projections and Jordan Russell's lights, the show delivers visual splendour."Suzy Goes See
"Sound aspects are thoughtfully rendered, with Naomi Belet's impressive live singing proving a particularly memorable element. Three actors perform the role of Turing. Steve Corner brings scintillating drama, the spirited Harry Reid brings valuable vibrancy to the role, and Ewan Peddley's earnest presence helps engender compassion for the heart-breaking tale. Also noteworthy are Bridget Haberecht and Leilani Loau, both remarkable for the nuance and emotional precision they bring to the parts of Pat and Sara, respectively." Suzy Goes See
"An incredibly creative and sensitive production…quite breath-taking…Director Anthony Skuse has cast a fine assembly of performers whom he directs with perceptive skill and sensitive empathy…Historically accurate, delicately directed, sensitively performed, gently provocative…The very talented creatives and courageous performers give us a play that is of the past, but still very much of the present. There is much still to change."  Stage Whispers
"Director Anthony Skuse maintained the dramatic tension throughout…The performances were first class…This production is well worth seeing and a good choice for a play as part of the Mardi Gras Festival" Sydney Arts Guide
"Turns a light on the insidious damage that the more polite forms of bigotry does to a person and a community…The feeling of invasion and danger saturated this production." Night Writes
"Astutely directed, it is a riveting watch which codifies its currency with implication and biographical narrative…Never a dull moment…Beauty and truth add up to a thoughtful and haunting experience."
Reviews by Judith

Main image: Public Domain/Christina Hatzis
Production images: © Bob Seary