BY LANFORD WILSON
8 JULY – 9 AUGUST 2014
AUSTRALIAN PREMIERE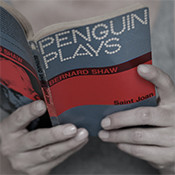 "Well I'm not very imaginative….my mind just jumps to the obvious."
In the parochial backwater of Dublin, Missouri, where life revolves around the cheese factory, the fundamentalist church and the community theatre, book-keeper Ruth lands the title role in a production of George Bernard Shaw's Saint Joan.
When a prominent local businessman is violently killed, Ruth suspects foul play. She begins a determined quest to uncover the truth of his death, pitting her in direct conflict with powerful forces and unconsciously mirroring the character she is playing on stage: Shaw's crusading, fearless Joan of Arc.
A comedy, a tragedy and a murder-mystery, Book of Days explores questions of morality and redemption, identity and community, and the threat posed by the religious right.
With echoes of Thornton Wilder's Our Town, the films of David Lynch and the poetic naturalism of Tennessee Williams, Pulitzer Prize-winning playwright Lanford Wilson digs deep into the moral degeneracy of a small town, balancing comic observation and dramatic conflict with lyrical and politically-charged storytelling to illuminate the disparate ways people behave at a moment of crisis.
"Illuminates the deepest dramas of American life with poetry and compassion" New York Magazine
CREATIVE TEAM & CREW
Director Elsie Edgerton-Till
Assistant Director Michele Brandenburger
Musical Director Cassady Maddox
Costume Designer Jacqui Schofield
Set Design Georgia Hopkins
Lighting Designer Alex Berlage
Production Manager/Stage Manager Jo Jewitt
CAST
Amelia Cuninghame, Gael Ballantyne, Simon Davey, Kate Fraser, Jeannie Gee, Mark Langham, Brendan Miles, Alex Norton , Alyssan Russell, Geoff Sirmai, Joel Spreadborough, Kyle Walmsley
TIMES 
Previews Tue 8 & Wed 9 Jul 7:30pm
Thu – Sat 7:30pm, Sun 5pm
Final performance, Sat 9 Aug 5pm
TICKETS
Full $32 | Concession $27 | Groups (10+) $27 | Members $22 | Previews $17 | Student Rush $17 | Thrifty Thursdays $17
"An absorbing two hours … on a cold night in Sydney, these warmly realised characters make for good company." Jason Blake, Sydney Morning Herald

"Excellent performances … exceptional direction … rich social commentary. Thumbs up!" OzBabyBoomers
"Complex, engaging and entertaining … stellar performances" WhatsOnSydney
"A gentle masterpiece of some great beauty … Finely calibrated work from a director with an exquisite painterly eye for staging … Set design is beautiful AND simple, enhanced by sophisticated and sensitive lighting and apt and flawless costumes … The company of 12 actors all capture the world of the play with great confidence. I recommend a visit."Kevin Jackson
"New Theatre continues to impress with its choice of plays, directors, actors and designers … this production is one that shouldn't be missed." Stage Whispers
"The direction is inspired and innovative … the production is entertaining, provocative and intriguing … the ensemble is formidable." Suzy Wrong
"Beautifully staged and cleverly written … The production is terrific, the use of space is  magical, the performances are sensational" Veronica Kaye
"Very cleverly executed … the dynamic cast brings a real ease and familiarity to the stage … makes for a funny, touching, and reflective theatregoing experience" The Brag
Photos © Bob Seary
Main image © Richard Hedger