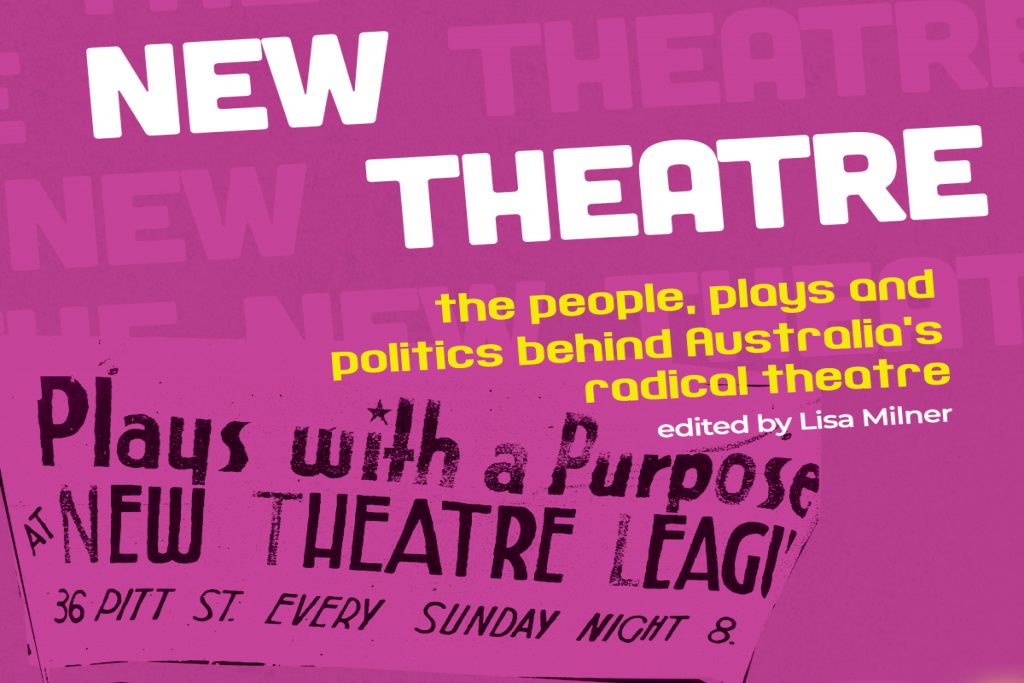 SPECIAL EVENT
BOOK LAUNCH + 90th BIRTHDAY CELEBRATION
18 Oct 2022, 6:30pm for 7pm
PRESENTED IN ASSOCIATION WITH INTERVENTIONS
New Theatre is thrilled to be hosting the official launch of a fabulous new book: The New Theatre: The people, plays and politics behind Australia's radical theatre, edited by Lisa Milner.
For the first time, this unique collection of essays brings the stories of New Theatre branches around Australia, filling a vital space in Australian cultural history.
Radical left-wing history tales, told by theatre practitioners, historians, academics and political ratbags, reveal a rich vein of Australia's hidden cultural heritage.
In the words of our President, Rosane McNamara:
"The New Theatre played an important role in the struggle to provide socially engaged theatre and to legitimise radical thought, satire and dissent on the Australian stage. This comprehensive analysis covers the colourful ways they brought theatre to working-class audiences, the important role of women and the methods employed by government, ASIO and others to suppress dissent. After 90 frequently controversial years, it seems that New Theatre is respectable at last!"
This event is also our chance to celebrate New Theatre's 90th Birthday, with performances of a medley of two classic 'political' songs from the Depression era, which resonate with the circumstances under which New Theatre was formed in 1932: My Forgotten Man and Brother, Can You Spare a Dime, and an extract from Clifford Odets' Till The Day I Die, a play so provocative and controversial that when New Theatre produced it in 1936, German officials complained to the NSW government resulting in New Theatre being ordered to cease performing.
This event is free and open to all, but numbers are strictly limited, so if you'd like to attend, please RSVP to Alice:
publicity@newtheatre.org.au
MC
Janey Stone, Interventions
SPEAKERS
Rosane McNamara, President New Theatre
Lisa Milner, book editor
Lisa Ginters, contributor
PERFORMERS
Singers: Cassady Maddox and Patrick Howard
Pianist: John Short
Actors: Matt Abotomey, Steve Corner, Kim Knuckey, David McLaughlin, Jodine Muir, Liam Smith
Directors: Rosane McNamara and Kim Knuckey
COVID- Safe protocols:
QR code and vaccination checks are no longer required.
Face masks are not mandatory, but recommended.
Main image: © Interventions