BARE – THE MUSICAL
MUSIC BY DAMON INTRABARTOLO,
LYRICS BY JON HARTMERE JR
19 – 28 JANUARY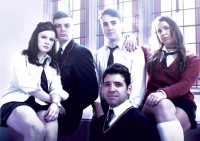 Presented by SUPPLY EVOLUTION
in association with NEW THEATRE
Back by popular demand for an extended season!
Pulsating, electric contemporary LGBT pop-rock musical BARE follows a group of students at a Catholic boarding school as they grapple with issues of sexuality, identity  and the future.
The show takes audiences on an emotional musical journey.  Peter and Jason have fallen in love, but they struggle with the fears of revealing their true selves to such an unforgiving world.
With a unique sung-through pop score, heart-pounding lyrics and a cast of bright young characters, BARE rings with the sounds of youthful repression and revolt.  BARE is a provocative, fresh and utterly honest look at the dangers of baring your soul … and the consequences of continuing to hide.

CREATIVE TEAM 
Director/Choreographer Hannah Barn
CAST
Natalie Abbott,  Jacob Barn, Tara Hanrahan, Teale Howie, Alex Jeans, Matt Laird, Timothy Langan, Alexandra Lewtas, Ibrahim Matar, Stephanie McKenna, David McLeod, Caroline Oayda, Sophie Perkins,  Aaron Robuck, Julie Ryan, Annette Vitetta
TIMES

Wed – Sat 7.30pm
Sat mat 2:00pm
Sun 7:00pm
TICKETS
Full $49
Concession $42
Group (10+) $30
"I was blown away … it was incredible" Little Book Owl
"Musically and dramatically powerful … a strong young ensemble cast who play the piece with abundant attitude and energy" Stage Whispers
"It was wonderful … take this rare opportunity and make sure you see BARE live"  AU Review
"Musical director Matthew Reid does wonders with his 8-piece band, providing injections of energy whenever required, and calibrating atmosphere with remarkable sensitivity throughout" Suzy Goes See
"A delightful surprise … any of these performers could walk into a professional, big theatre production of any musical you can think of and excel" Sydney Chic
"The terrific ensemble deserves to play to full houses every night" SX Magazine
"All of the young cast are really superb in their roles. This is an energetic and rousing production, not be missed by any self-respecting musical theatre fans in Sydney" Alt Media
"The choreography and staging is so tight, thoughtful and inventive that it is almost cinematic. The cast assembled here is blindingly talented" Sydney Scoop