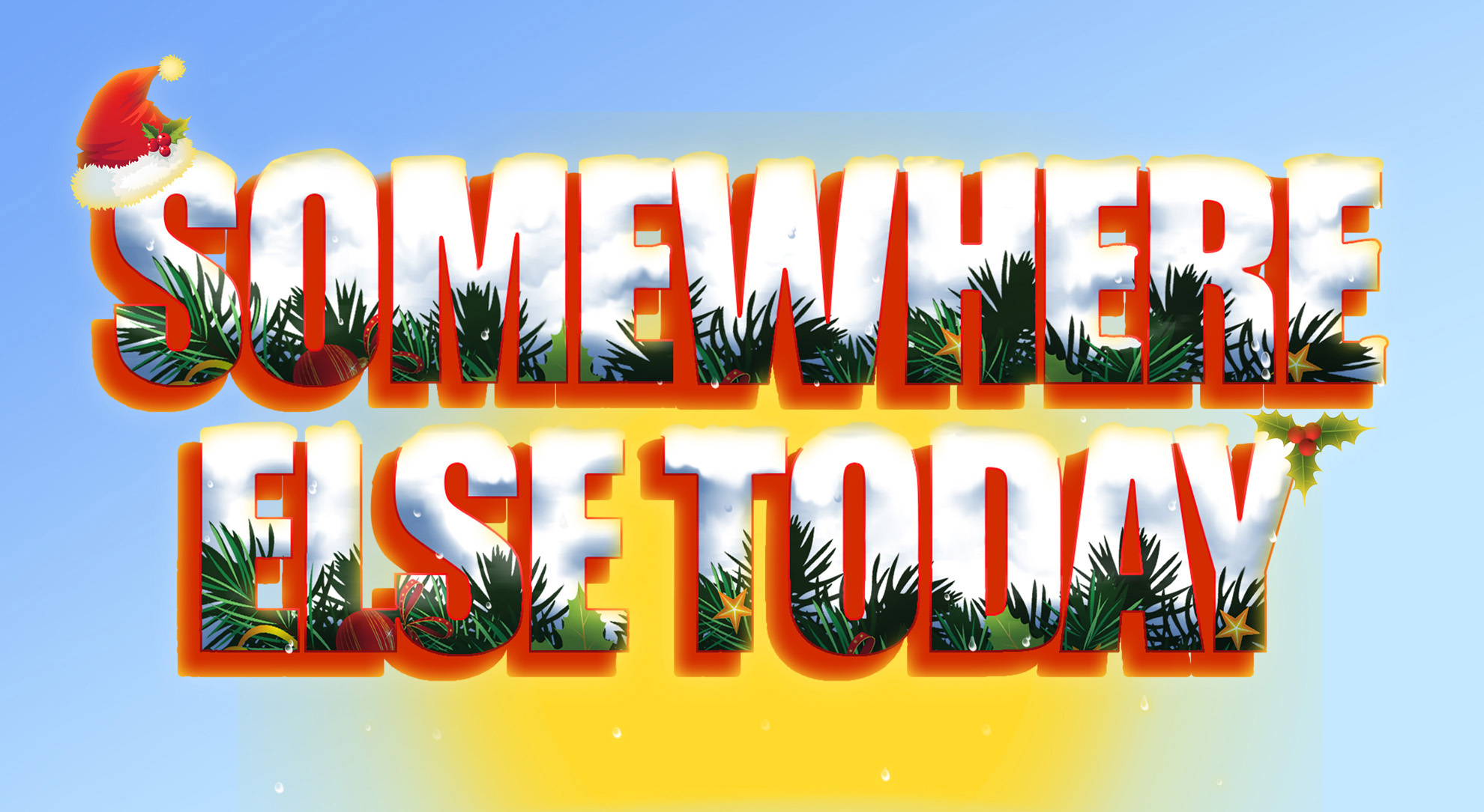 Somewhere Else Today
by Coco Grainger & Ludwig van Distortion
18 – 23 December
Produced by Distortion Forever, in association with New Theatre
"Somewhere else today, it's a winter holiday.
Somewhere else today, the world is tilted the right way."
Somewhere Else Today is back for a return season – just like Christmas!
Eli and Darcy do not want to spend another Christmas with Eli's family, or in the Southern Hemisphere for that matter! George, the adopted son, has woken up with Brandi – last night's one-night-stand – who just won't leave. Jan is introducing her new boyfriend, Chuck, to everyone. Phil is sick of Christmas. Dorian is hungover. The Dog struggles for power with the men. And they haven't even opened presents yet!
With lame gifts, clashing egos, a psychedelic retelling of the history of Christmas, and the fury of a woman scorned, this is just an ordinary Christmas with the Bennett family. Despite the craziness and chaos, the fights and over indulgence, Brenda Bennett, the matriarch, just wants to keep the family together.
Written and produced by Distortion Forever (Coco Grainger and Ludwig van Distortion) writers of Smash Hits And Stereotypes.
Warning: contains drug references, coarse language, and sexual references – it is Christmas after all!
creative team
Director Coco Grainger
Musical Director Ludwig van Distortion
Stage Manager Alicia Hartwick
Lighting Designer Michael Pickett
cast
Ella Arendelle, Jasper Bruce,
Myles Burgin, Alicia Hartwick,
Polly Hughes-Dixon, Emily McKendry,
Tilly Murphy, Denver Naude,
Jareth Norman, James Oberg,
Bec Power, Daniel Verschuer
dates/times
Monday 18 December 7:30pm
Tuesday 19 December 7:30pm
Thursday 21 December 7:30pm
Friday 22 December 7:30pm
Saturday 23 December 5pm
tickets
Full $35
Concession $30