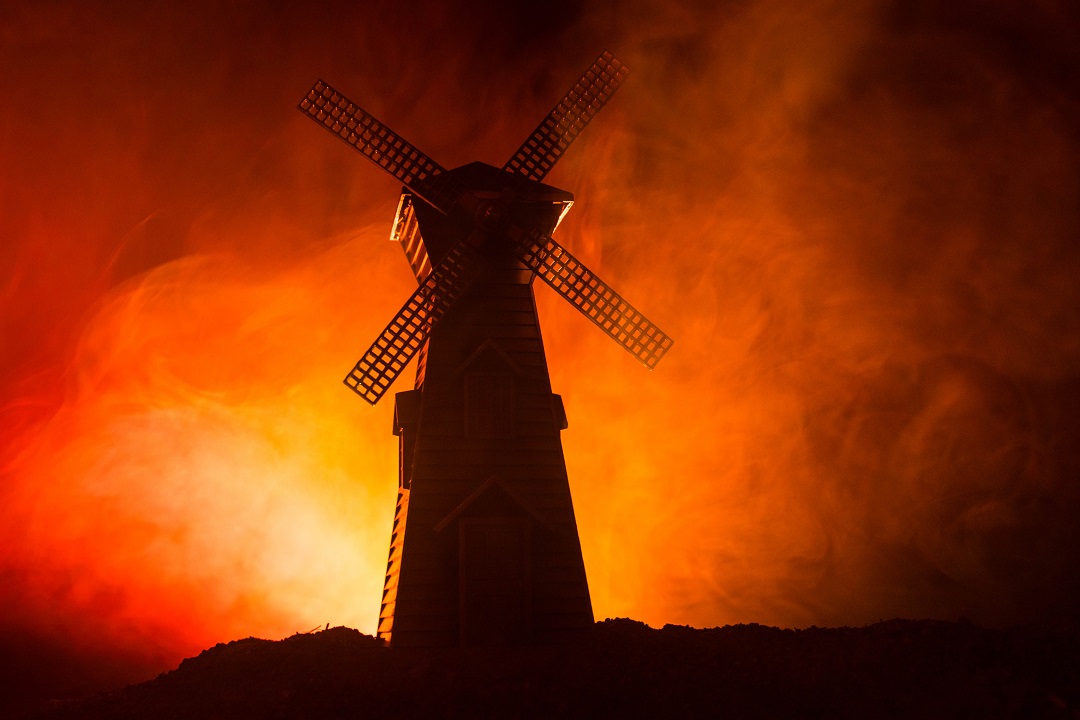 ANIMAL FARM
ADAPTED BY SARO LUSTY-CAVALLARI
FROM THE NOVEL BY GEORGE ORWELL
13 OCTOBER – 7 NOVEMBER 2020
A WORLD PREMIERE
"All animals are equal, but some animals are more equal than others" 
One of the most influential and ground-breaking novels in English literature, George Orwell's dystopian parable tells of the rebellion of the animals on Manor Farm against the cruel farmer Mr. Jones.
A new order is established, a perfect society where all animals are equal, but gradually unease and fear take hold as the leader Napoleon and his class of pigs become rulers of the farm and set about destroying their rivals.
This is the story of how a revolution goes wrong. How the genuine disaffection of those in desperate need of change becomes weaponized and putrefied by a ruthless political class.
From the brutal Stalinist regime that prompted Orwell in 1945 to write the story, to the empty promises of today's demagogues, Animal Farm is a chilling reminder of how absolute power is seized and how it's retained.
New Theatre is thrilled to be presenting the world premiere of a new dramatic adaptation by young Australian director Saro Lusty-Cavallari, whose production will shatter any illusions that this is a fairy tale!
Content warning: coarse language, graphic violence
Costume designer Claudia Mirabello discusses her ideas
George Orwell's Animal Farm doesn't tell us where the answers lie, writes director Saro Lusty-Cavallari. Instead it warns us where answers are not.
Creative team
Director Saro Lusty-Cavallari
Assistant Director Margaret Thanos
Set Designer Carmody Nicol
Lighting Designer Rhys Mendham
Costume Designer Claudia Mirabello
Sound Designer Jaymes Julian Wilson
Production Manager/Swing SM Aidan Lam
Stage Manager Claire Ferguson
ASM Amelie James-Power
Cast
Kevin Batliwala, Anika Bhatia
Sue Broberg, Zoe Crawford
Ben Dewstow, Laura Djanegara
Angus Evans, Nathalie Fenwick
Rob Ferguson, Imogen French
Brendan Miles, Bella Ridgway
Eleanor Ryan, Lachlan Stevenson
Tiffany Wong
dates & times
Preview Tue 13 Oct
Thu – Sat 7:30pm
Sun 5pm
Final performance Sat 7 Nov 2pm
Running time: 105 minutes, including interval
Patrons please note: there will be a lockout of 10 minutes at the start of the performance, after which late comers will be admitted. 
tickets
Full $35
Concessions, Groups (6+) $30
New Theatre Members $22
High School Students $22
Previews, Thrifty Thursdays $20
All performances of Animal Farm are now SOLD OUT. The box office will be running a waitlist 30mins before the advertised start time of each performance. Names need to be added to the waitlist in person and it's first come, first served.
"New Theatre's revolutionary heart beats loud in Animal Farm … George Orwell's iconic tale feels fresh and new … Saro Lusty-Cavallari's adaptation is startlingly robust and structurally gripping. With its gift of narrative clarity, this script could and should have a long life in Australian programming. A large part of its appeal lies in the naturalistic and contemporary language … Clever casting places men in positions of power over women even in these shared spaces, subtly mirroring other issues of social injustice … This is a thoughtful and generous staging that holds the audience's hand and encourages critical thinking – which is both important and welcome." Sydney Morning Herald
"Saro Lusty-Cavallari's compact, quick-moving script is contemporary in tone, helping to lead us away from Animal Farm as a fable on the unfolding of the Soviet revolution and towards it being a satire on modern day politics Australian-style … The ingrained sexism of politics is made apparent, too. It's the women who do the heavy legwork and emotional labour while the men bluster, complain and then take the credit … A solidly entertaining evening replete with a sense of serious purpose, flashes of humour and generous satirical bite." Audrey Journal
"Director/writer Saro Lusty-Cavallari very wisely resisted the urge for a major update, instead seamlessly sprinkling a few contemporary references into the narrative … An engaging night at the theatre and highly recommended." Stage Whispers
4.5 STARS "The 1945 classic has been given a breath of fresh air whilst simultaneously remaining true to the original's ideas." State of the Art
"A production of coherent imagery and cohesive design. The very effective visual storytelling, wrought of increasingly downcast stillness and cowed fear, is excellence in text and conceptualisation and only possible with such a committed cast." Reviews by Judith
4 STARS. "A fresh, dynamic rendering of the famous fairy-tale about an animal rebellion … I cannot imagine a more coherent design vision to illuminate the words and work of the actors … This production, both lovely to look at and chillingly relevant was the best foray back into the theatre I could have hoped for." Theatre Now
"It feels nearly painful to watch of Animal Farm and realise that the cautionary tale from 1945 is still so shockingly relevant … Lusty-Cavallari's adaptation and direction are precise, gathering an ensemble cast that fluidly introduces the characters" City Hub
"Saro Lusty-Cavallari's adaptation of the seemingly sweet but ultimately dark fable serves as a reminder of the need to challenge the actions and messages delivered by our leaders … The entire ensemble delivers a strong and captivating performance" Broadway World
"It's clear this production is in the hands of a very skilful playwright and director (Saro Lusty-Cavallari) who effortlessly makes this piece work for a contemporary Australian context … The performances of every actor on stage makes Animal Farm a wonderous delight and terror to watch … Highly recommended … With plenty of pivotal moments and whip-crackling scenes, one is sure to be thoroughly entertained and moved by this perfectly cast and well-executed production." What's On Sydney
Main image: © Zeferli/iStock
Production images: © Bob Seary