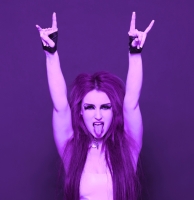 THE CHAPEL PERILOUS
By Dorothy Hewett
"We can go wrong in our minds, but what our blood feels and believes and says is always true"
This iconic masterpiece of Australian theatre charts the painful and sometimes farcical life of a defiant young poet, Sally Banner, as she searches for artistic freedom and self-realisation.
Set against a background of Australia's changing social landscape, we follow Sally's coming-of-age and subsequent brutal disillusionment as a communist, feminist, bohemian, wife, mother and writer.
At the heart of the play is the conflict between Sally's journey through adolescence to womanhood and a discovery of self, whilst battling the conservative societal forces that would hinder her quest.
Hewett's semi-autobiographical play is a heady cocktail of poetry, vaudeville, musical theatre and panoramic social realism: ground-breaking, daring, confronting and hugely entertaining.
"A great play of life, love and longing" Australian Stage Online
CREATIVE TEAM
Director Carissa Licciardello
SEASON
25 April – 27 May 2017
PERFORMANCES
Previews Tue 25 & Wed 26 April 7:30pm
Thu – Sat 7:30pm, Sun 5pm
Final performance: Sat 27 May 2pm
REHEARSALS
Rehearsals will commence the week of 6 February.
Rehearsals will be held outside of business hours on weekdays and daytimes on weekends.
Please note: principal cast (Sally and The Lovers) may be required to rehearse one to two days of the week.
 ROLES AVAILABLE
SALLY BANNER, F/20-30. An aspiring poetess.
THE LOVERS, M/20-30. A role-share of THOMAS (Sally's husband) MICHAEL (a recurring lover), DAVID (a University student) and SAUL (Leader of the Communist party).
JUDITH/SISTER ROSA, F/early to mid-20s. JUDITH, a schoolgirl and the first object of Sally's affections. SISTER ROSA, a teacher at the school.
FATHER/CANON, M/30s-50s. Sally's father / The school chaplain.
MOTHER/HEADMISTRESS, F/30s-50s. Sally's mother / The school headmistress.
SUPPORTING ROLES, 2 x F-2 x M/early to mid-twenties. Schoolgirls, University students, nurses, Miss Funt, Micky Snatchit, policewoman, female spruiker, chorus members / university students, interne, policemen, radio announcers, various voices, pall-bearers, psychologist, magistrate, old tramp, spruikers, chorus members.
AUDITION DATES
Tuesday 31 January 10am – 10pm
Wednesday 1 February 10am – 10pm
Thursday 2 February 10am – 10pm
Callbacks: TBA
TO BOOK AN AUDITION
It is essential that you read the play before submitting an Expression of Interest. To request a perusal copy of the script, please contact manager@newtheatre.org.au
Email your EOI to chapelperilous2017@gmail.com  with AUDITION in the subject line
Please include:
a current headshot and resume
the role/s you are interested in
your preferred audition time/date (no guarantees, but we will try to accommodate you)
state if you are a current New Theatre member
You will be provided with a script excerpt to prepare. All roles except for MOTHER/HEADMISTRESS and FATHER/CANON also require singing. Please prepare a ballad or hymn of your choosing.
PLEASE NOTE
New Theatre is a volunteer-based organisation and there is no payment for this production.
ABOUT THE DIRECTOR
Carissa is a Sydney-based director and theatre-maker. She is a current graduand of NIDA's MFA in Directing course. Directing credits include: for NIDA, All That Glitters (in association with Glitterbomb, Graduating Production 2016); Huis Clos (No Exit) (ACA Project 2016), devised work Reflect (ACPA Project 2016), short film Gale (2016) and music video Work.It (Triple J Unearthed/Rage); for leftofcentre theatre co., Femme Fatale (Old 505 FRESHWORKS Season 2016), The Genius Project (as co-creator/performer), Elegy (La Boite's FAST Festival 2014, FRINGEWORLD Festival 2015), and short film Thanks for Sharing (2015); for RockSurfers, Reindeer Games (Bondi Feast 24-Hour Party Playwright 2015); and for Bathurst Arts & Theatrical Society, Slut (2013). She has observed on Misterman (SIREN Theatre Co.) and Jump for Jordan (Griffin Theatre Company, SBW), and assisted on #KillAllMen (NIDA), Stones in His Pockets (Critical Stages) and Playwriting Australia's 2015 National Script Workshops. Professional development opportunities she has been selected for include Playwriting Australia's Director's Studio 2014, ATYP's National Studio for promising playwrights, and the 2015 PACT Collective. Carissa graduated from Charles Sturt University's Theatre/Media course with Distinction in 2014. She was the recipient of the Blair Milan Memorial Scholarship for Performance Excellence and the Frank Ponton Memorial Prize. Carissa is currently a Resident Director at The Old Fitz and Artistic Director of Glitterbomb.
www.carissalicciardello.com || www.dasglitterbomb.com